Order your yearbook today! Go online to
www.inter-state.com/yearbook
and enter code: High School/Middle School book 53360Z $24 Elementary book 54218K $16 You may also pick up an envelope at the school office. If you have any questions, contact Ms. Wood at
melaniewood@usd463.org

April 28, 2021 NOTICE OF SPECIAL MEETING Board Of Education Unified School District No. 463 Udall, Cowley County, Kansas Pursuant to the requirement of KS.A. 72-8205, a special meeting is called by the President of the Board of Education of Unified School District No. 463, Udall, Cowley County, State of Kansas. The meeting will take place on Wednesday, April 28, 2021 starting at 7:00 am in the Board Meeting Room at the District Office, 303 S Seymour, Udall, Kansas 67146. The purpose of the meeting is to have approve two new personnel. Cathryn L Schulle Board Clerk USD 463 Board of Education
UHS Softball Results- 4/26/2021 Udall- 28 Sedan- 27 Udall- 21 Sedan- 33
UHS Baseball Results- 4/26/2021 Udall- 5 Sedan- 17 Udall- 4 Sedan- 19

Driver's Ed Summer 2021 It's that time of year and if you are interested in taking Driver's Ed this summer, you need to stop by the High School office and sign up. You also need to complete this form at
https://www.usd463.org/page/middle-high-forms
with your parents and turn it in with your payment by May 5th. Spots are limited.
The high school track meet at Central on Tuesday, April 27th will now be starting at 1:00 PM.
Congratulations to the following students who received an Excellent rating at the 2021 KSHSAA Virtual Music Festival: Soloists: Kaetlyn Dishon, Aubrey Eilers, Jayce Rieth, Brae Burley, and Brandi Burley. Senior Women's Ensemble: Carol Blagg, Kaetlyn Dishon, Aubrey Eilers, and Brandi Burley. Udall HS Choir: Carol Blagg, Brae Burley, Brandi Burley, Kaetlyn Dishon, Aubrey Eilers, Syrus Humphrey, Jayce Rieth, David Robinson, Sam Schilling, and Andrew Wolfe.
Come support the shop department at the FFA banquet Wednesday , April 28th! Students have been working hard creating projects all year that will be available to buy. The banquet and silent auction start at 6:00. The auctions will continue through May 5th and winners announced after the High School Awards night that evening.
UHS baseball and softball teams were both swept in their doubleheaders against Oxford.
Rachel, a foreign exchange placement coordinator, is looking for possible host families for the next school year. If you think you might be interested in hosting a foreign exchange student for the 2021-2022 school year, please contact her at 316-554-6350.
HS Softball- 4/19/2021 Udall- 18 South Haven/Caldwell- 8 Udall- 16 South Haven/Caldwell- 21
Due to COVID protocols we will divide the concert on April 27th into three mini concerts. This will allow time to clear and ventilate the theater space. The schedule is as follows: Part 1: 6:30 -5th grade band Part 2: 7:00 - Middle school band 7:15 - 6th Grade Band Part 3: 7:30 Middle School Choir
The high school track meet at Caldwell scheduled for 4/20 has been postponed to May 4th. It will still start at 3:00 PM.
Thank you to everyone who tried out for the talent show last week. The performance will be this Friday the 23rd at 7 pm. All participants please arrive in the choir room by 6:45. We are asking for a freewill donation at the door. All proceeds will go to support Udall HS Music.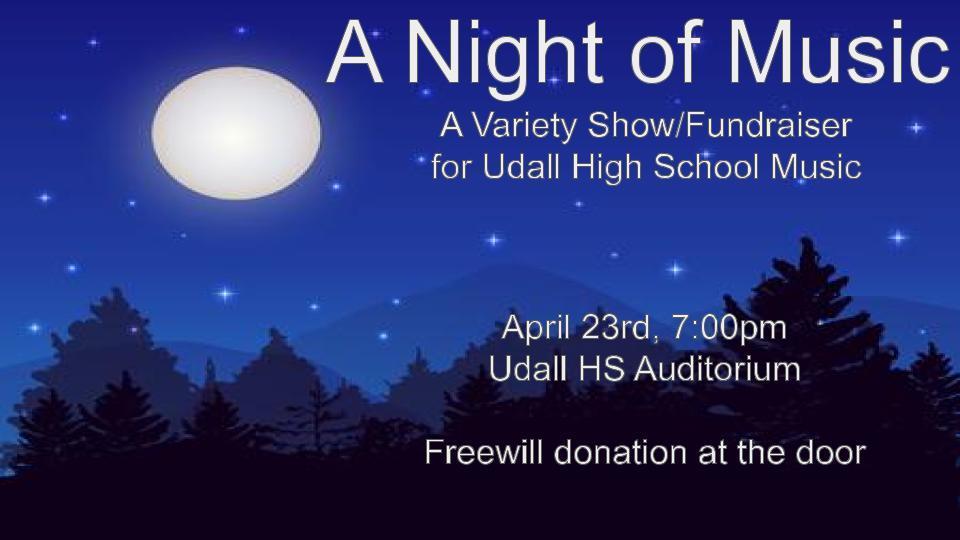 HS Baseball Results- 4/15/2021 Udall- 6 Cedar Vale/Dexter- 5
The high school Student Council is planning our 2nd annual Community Service Day for all students in grades 6th - 12th on Tuesday, May 4. StuCo officers have been contacting local organizations to find jobs for our students to complete. If you know an individual that could use our help, please contact Becka Leiblie at the high school -
beckaleiblie@usd463.org
, 620-782-3623. We would love to clean up yards, paint, plant flowers, etc. Students can perform any outside activity within city limits. Students will be in small groups and will have a faculty member there to supervise. Please help us put our students to work making our community even better!
Monday, April 19, 2021 Udall High School will be taking the Freshman, Sophomore, and Junior classes to Mid America Dragway. The YES (Youth Education Services) program is promoting STEM Educational programs through drag racing. Our students are among approximately 275 other students invited to the speedway on Monday. This program will last from 10 am - 2 pm.
The Junior class at Udall High School is inviting you to Promenade 2021. Promenade will begin at 5:00 p.m. on Saturday April 17th. Spectators can park in the lot across from the district office and the grade school parking lot. Overflow can park behind the middle school. If you are not able to walk long distances please arrive 15 minutes early and drop off in front of the high school commons. Please do not park in the high school parking lot. Pictured below is the route for promenade. Bleachers will be set out in front of the high school commons for spectators.