HS Softball WJL/SCBL Tournament Scores- 5/10/2021 Udall- 5 Oxford- 15 Udall- 12 West Elk- 22 They will play South Haven/Caldwell on Thursday at Winfield.
HS Baseball WJL/SCBL Tournament Scores- 5/10/2021 Udall- 1 Central- 11 Udall- 6 CVD- 12 They will not be playing Thursday at Winfield now.
The baseball and softball games for today have been changed again due to weather. The baseball team will now travel to Flinthills to play at 2:00. The softball team will now play at West Elk starting at 2:00.
Today's baseball game has been moved to 2:00, but will still be played at Central High school.
Today's softball games at Oxford have been postponed due to rain. A decision will be made at noon today to decide if the games will be played this afternoon at Central or tomorrow at Oxford. As of now, the baseball games will be played as scheduled.
Attention graduates and parents! We have hired a professional photographer to take your cap and gown pictures this Friday. Pete Iseman with Iseman Photography sent the following information concerning the photo session: Iseman Photography will be capturing the senior class picture as well as formal cap & gown portraits on Friday, May 14 at 9:00 am. Iseman Photography will be posting all of these images to a graduation gallery for general viewing. You can access your images from this gallery. For larger events we recommend using the FaceFind tool to quickly find your specific images. You can text UDALLGRAD21 to 90738 to access the gallery. If you text the code above prior to Friday, you can opt in and/or purchase a voucher. If you Advance Pay, you will get free shipping as well as $5 off of your order (and a complimentary digital file of your choice). This voucher can be used to purchase your package once the images are posted. For now, all you are doing is selecting an amount. If you end up spending more than the voucher, you would just pay the difference at checkout. No need to know an exact amount now. If you pre-purchase a credit and subsequently decide not to purchase, you can request a refund. There is no risk by purchasing early. Click on this link if you'd rather view the gallery from your computer:
https://galleries.photoday.io/gallery/udall-graduation-21
Use the same code (UDALLGRAD21) when prompted. If you have any questions, please contact Becka Leiblie at the high school (
beckaleiblie@usd463.org
).
Congratulations to 7th grader Gabe Richards, and 10th grader Aubree Williams, for being selected April Students of the Month!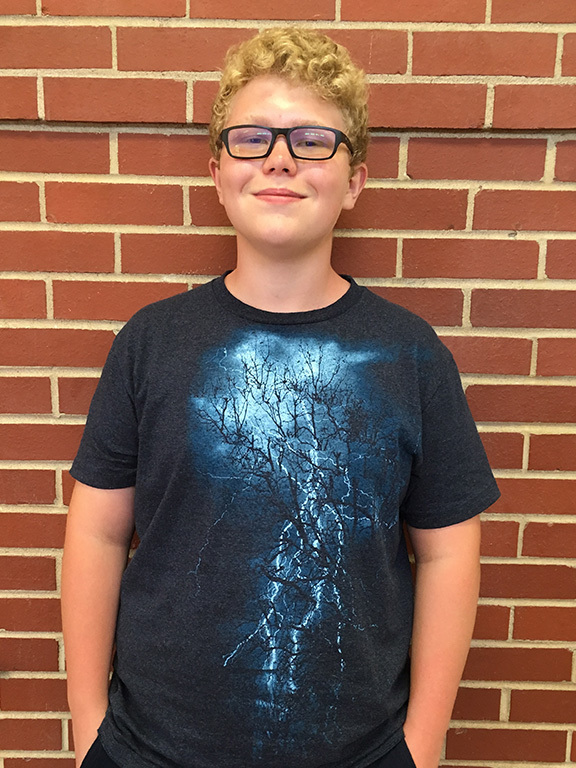 Admission will be charged at today's SCBL junior high track meet. It will be $4.00 for adults and $3.00 for students.
The High School Awards Assembly will begin at 6:30p.m. this evening in the High School Auditorium. We apologize for the miscommunication of it beginning at 7:00p.m. Again, it will begin tonight at 6:30p.m.
The CTE silent auction will have more items available for bidding at the high school awards ceremony tomorrow, May 5th at 7:00. The FACS classes have baked goods ready for sale! Bidding will continue through intermission of the awards ceremony and winners announced at the end of the evening.
All students 6th - 12th grade will be participating in Community Service Day tomorrow, Wednesday, May 5th. Students will be working at various places around town and at the school to help improve their community. Lunch will be provided by StuCo at the park through the Legacy Foundation Grant. All community members are invited to join us at the park for lunch starting at 11:00!
HS Softball Scores- 5/3/2021 Udall- 25 West Elk- 13 Udall- 7 West Elk- 12
HS Baseball Scores- 5/3/2021 Udall- 3 West Elk- 13 Udall- 3 West Elk- 18
I am still looking for volunteers to help run off the field events for Friday's high school track meet. Please let me know if you can help. It starts at 3:00 PM and should be done around 4-4:30 PM. Email me at
wyattwilliams@usd463.org
if you can help. Thanks, Wyatt Williams
Today's high school baseball and softball doubleheaders at West Elk start at 4:00 PM. West Elk now has lights on both fields.
UHS Softball Results- 4/29/2021 Udall- 7 Sunrise Christian- 17