UMS b-team and a-team boys and a-team girls defeat Caldwell. The b-team girls lose to Caldwell.
Congratulations to 11th grader, Brae Burley, and 8th grader, Kayl Knapp, for being selected high school and middle school Students of November!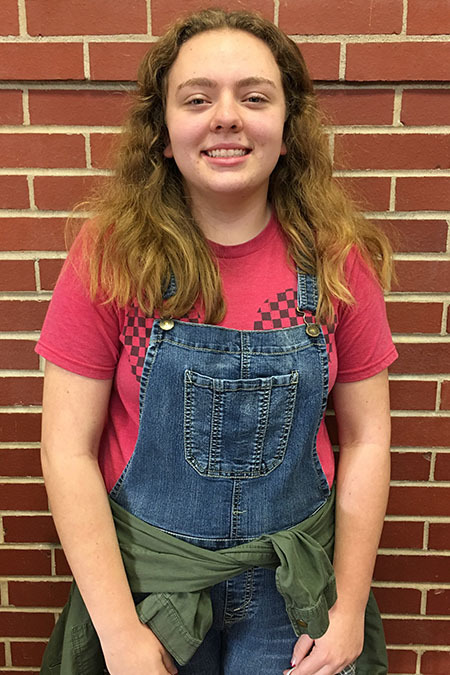 Attention MS/HS BAND families : Regarding the Band concert for tomorrow, Tuesday 12/01/2020- In order to provide adequate spacing for our attendees, we have split the concert into two sections. The Middle School concert will begin at 6:30pm followed by the High School concert at 7:30. We will be sanitizing between groups, so please be patient while we accomplish this. We will be live streaming on our school Facebook page for those unable to attend in person.
The middle school basketball game at Argonia on 11/30 was moved to 1/11 a few weeks ago,
FOR IMMEDIATE RELEASE November 24, 2020 KSHSAA Board of Directors Discuss the Winter Activity Season TOPEKA, Kan. - The KSHSAA Board of Directors (BOD) met in a virtual format with all 78 members in attendance on Tuesday to discuss several items pertaining to the winter activity season. The BOD voted in favor to begin the winter activity competition season Dec. 1st and continue through Dec. 22nd before taking a winter moratorium for practice and competition (no practice and no competition) beginning Dec. 23rd. The winter moratorium usually runs from Dec. 23rd to Dec. 27th however the board took action to extend the moratorium on practice and competition through Jan. 3rd. Practice may begin on Jan. 4th and competition may resume on Jan. 8th. This action was taken for high schools and middle schools. The BOD also took action resulting in the requirement for all participants (including but not limited to athletes, coaches, officials, spectators, support staff and all others attending/participating in school activities) to wear a face covering in the manner it is intended to be worn while at the event venue and for the duration of the event. The only exception is provided for athletes during the time they are competing and for officials during active play. Other items resulting from the KSHSAA Board of Directors Meeting: · Basketball may have a maximum of 20 games, exclusive of the postseason. · Swimming and Diving may have a maximum of 10 competitions, exclusive of the state meet. · Boys and Girls Wrestling may have a maximum of 18 events and no more than 30 competitions points, exclusive of the postseason. · Bowling may have a maximum of 10 competitions, exclusive of the postseason. By KSHSAA Board of Directors adoption, no spectators will be permitted for high school and middle school contests, Dec. 1 through Jan. 28th, 2021. Complete minutes of the meeting will be released at a later date.
Tonight's middle school basketball games against Elk Valley have been postponed to a later date.
The Udall FBLA food drive to stock the Eagles Nest was a huge success! With over 600 meal items donated, the Nest will be able to feed Udall students in need for quite some time. The food drive awarded the high school class that donated the most items with a day out of school. Congratulations to the senior class for winning with 265 items donated. Enjoy your day off on Tuesday! Thank you to all student and parents that donated to this great cause!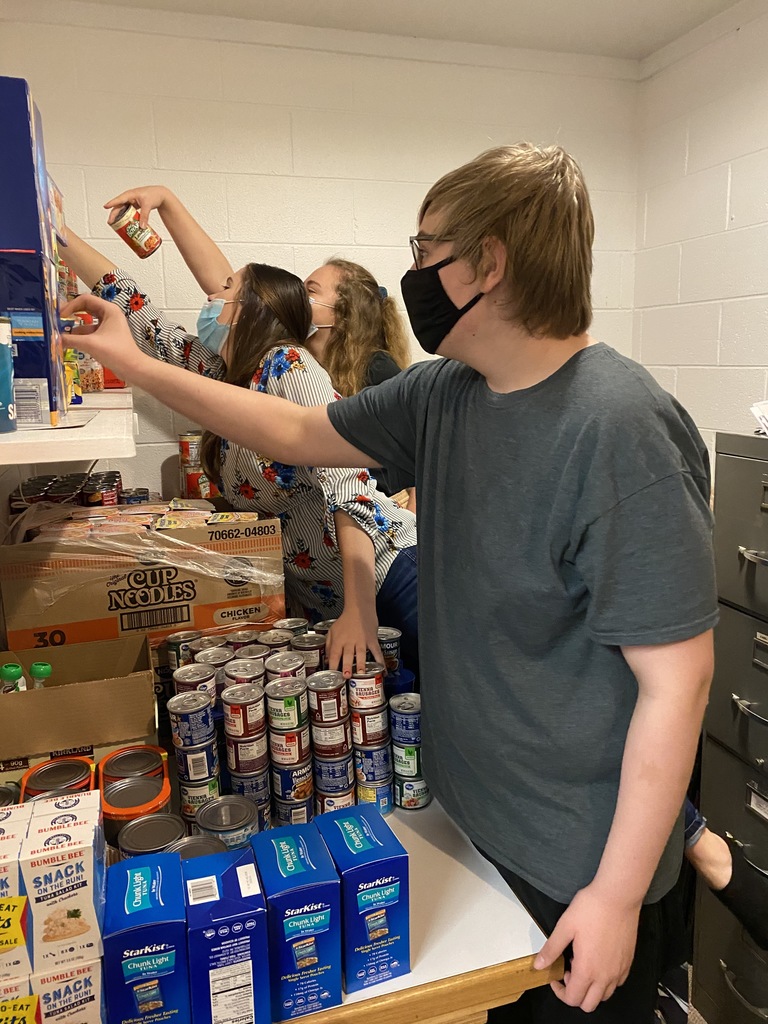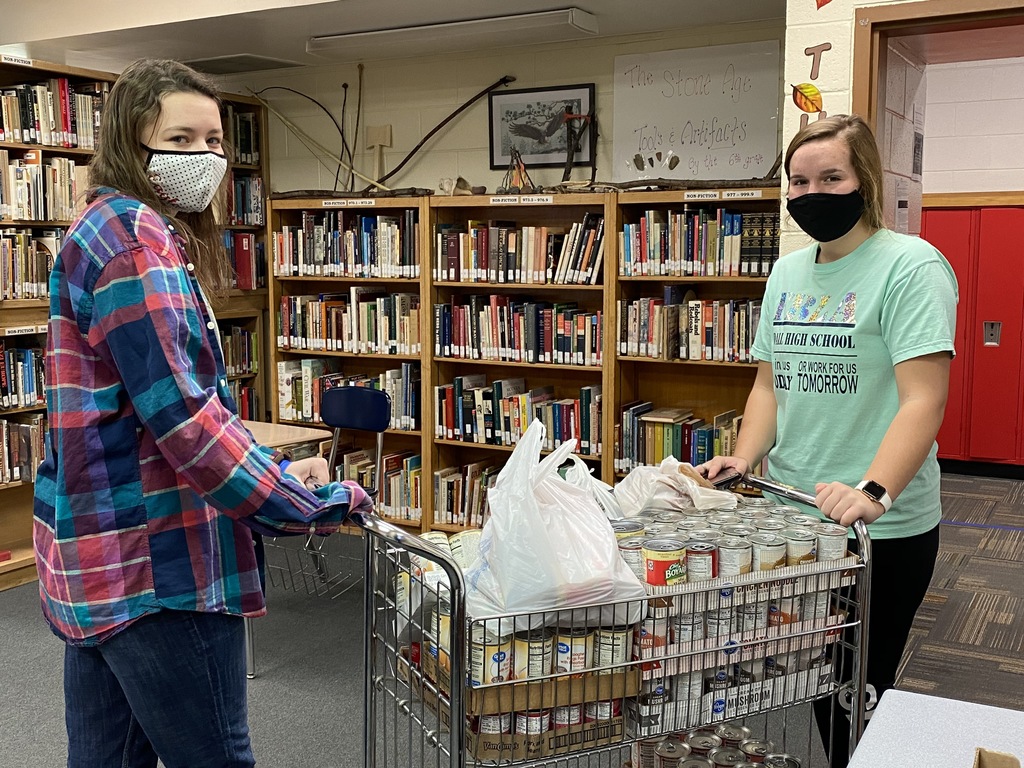 Attention Parents/Guardians and Community Members! Due to the unprecedented school situation this year, I could use your help with photos of sports and activities at all Udall Schools. If you take any photos of your child or others, please send them to me to possibly use in the yearbook. If we end up going remote, please take random photos of your child doing schoolwork or things at home. I'd like to accurately document this year, no matter what the situation is. Email photos or share albums from google docs to:
melaniewood@usd463.org
Thanks for all your help!! Melanie Wood - Yearbook
UMS b-team boys and b-team girls lose to Flinthills. A-Team girls lose to Flinthills. A-Team boys defeat Flinthills
KSHSAA Proposal
The middle school basketball teams play at Flinthills today. 4:00 PM- B-Team Girls Followed by B-Team Boys Followed by A-Team Girls Followed by A-Team Boys
South Central Border League Argonia Caldwell Cedar Vale Central-Burden Dexter Elk Valley Flinthills Oxford Sedan South Haven Udall West Elk With the goal of maintaining in-person instruction (keeping kids in the school buildings) and allowing kids to participate in the winter season of school activities, the following policy was adopted by the League on November 13, 2020. The South Central Border League will continue events involving league schools through December 19th with PARTICIPANTS ONLY. Events will be live-streamed for spectators. The league strongly encourages that these protections be implemented with non-league schools. The league will meet at the end of December to re-evaluate the policy for January. For the purpose of this policy, parents/legal guardians will be considered participants for attendance as long as all policies are followed, including the requirement to wear a mask properly at all times. No food or drinks will be allowed in the facility. Concession stands will not be open. Amended November 17, 2020
Attention! Tomorrow's breakfast will be Funnel cake, instead of Pancake on a stick.
Congratulations to Isaac Jirak who was selected as first team linebacker and Austin King as honorable mention wide receiver on the SCBL All-League football team.
Udall senior Emma Enderud signs with Northern Oklahoma College in Tonkawa to play softball.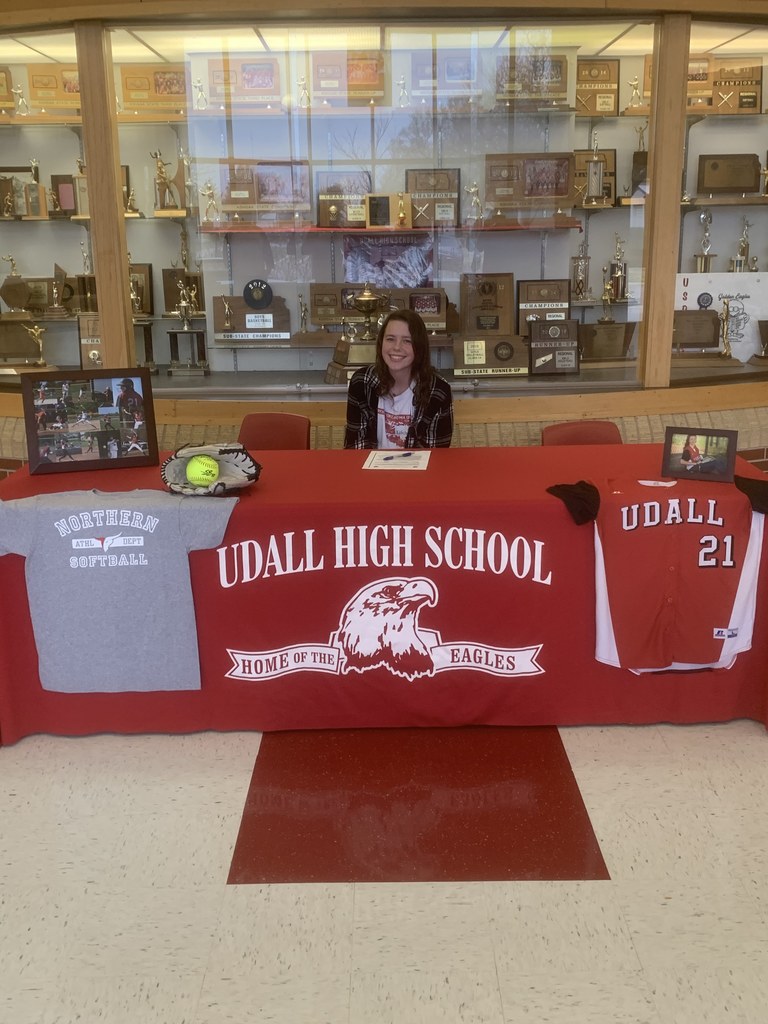 Student meals are continuing to be offered to our remote learners and any students that are home due to any health concerns. You may call the Grade School office by 8:30am in order to request your meal for the day. You will also have a breakfast for the next day with your lunch. Pick up time is only between 11:00am and 12:00pm at the Grade School drive up lane in front of the Grade School office. Breakfast and lunch are served at no charge to students through the end of the school year. Students in the Middle and High school may participate in 2nd chance breakfast. Please remember only 1 breakfast meal is free for the day, whether they choose to participate in the morning before school or during 2nd chance breakfast. GO EAGLES!!!
The Sedan Junior High Basketball Invitational on 11/21/2020 has been cancelled. The high school scholars' bowl at Sedan on 11/17/2020 has been postponed.