Congratulations to the Winter Homecoming candidates! The queen candidates are Kaetlyn Dishon, Aubrey Eilers, and Emma Enderud. The king candidates are James Baxter, Austin King, and Trent Whiteman. The ceremony will take place on Thursday the 11th at 3:15. We will broadcast the crowning live on Facebook. Candidates will also be recognized at halftime of the boys' varsity game on Friday evening.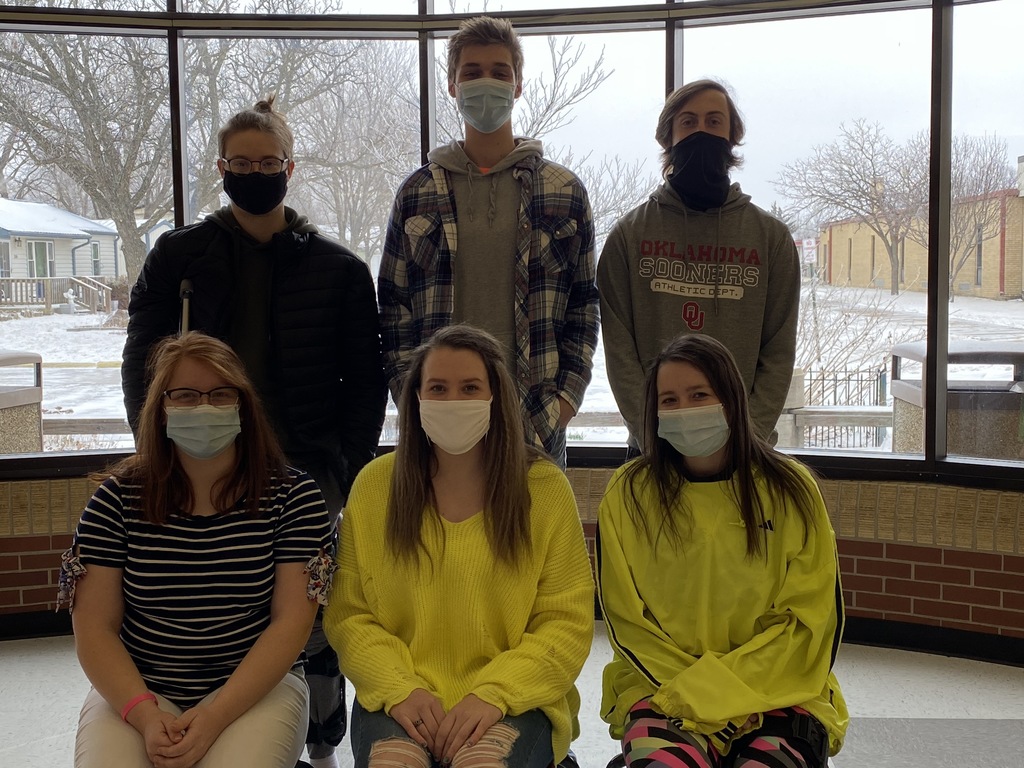 Udall Elementary is happy to announce it will be accepting all in-district three year-olds into preschool, beginning on February 16, 2021. This will be a half-day morning program. Parents you will need to enroll your students through the elementary office. If you have any questions please call Mrs. Perkins at (620)782-3632. You may also email her at
heidiperkins@usd463.org
.
HS Basketball Schedule for Friday, 2/12/2021- Schedule: 3:00 PM- Junior Varsity Girls- two 8-minute quarters Followed by Junior Varsity Boys- two 8-minute quarters 4:30 PM- Varsity Girls- National Anthem before the game Followed by Varsity Boys- Homecoming Ceremony- we will just recognize the candidates as the ceremony will be held at school on Thursday at halftime of the varsity boys' game- we will put 15-minutes on the clock for halftime. 
UHS Rescheduled Basketball Games- 2/15/2021 HS Boys vs. West Elk- 5:00 PM 2/20/2021- HS Girls and Boys- Varsity Only @ Caldwell- 3;00 PM 2/22/2021- HS Girls and Boys @ Argonia- 4;30 PM
Junior High SCBL Tournament Schedule for Thursday- 2/11/2021 At Udall: 4pm Girls. Flinthills and West Elk 5:30pm Boys: Udall and West Elk At Oxford 4pm Girls. South Haven and Sedan 5:30pm Boys. Oxford and Sedan
The high school basketball games at Caldwell tomorrow have been postponed.
USD 463 will be closed tomorrow February 9, 2021, due to weather. All activities are cancelled as well.
Tonights parent/teacher conference has been postponed until Thursday evening, February 11, 2021. With this change, conferences will now be held Wednesday, February 10, 2021 and Thursday, February 11, 2021. The time will remain the same at 4 pm. to 7 pm.
The scholars bowl competition for today at Caldwell has been canceled due to weather and school closed. We will not be making this date up. Thank you and Stay warm.
HS Basketball @ Caldwell- 2/9/2021 5:00 PM- JV Girls- two quarters Followed by JV Boys- two quarters Followed by Varsity Girls Followed by Varsity Boys
USD 463 is closed today February 8, 2021, due to weather.
UMS boys defeat Flinthills, 34-30 in the SCBL Tournament. They will now play Thursday against West Elk at Oxford.
UMS girls lose to Flinthills, 6-40 in the SCBL Tournament ending their season.
UHS varsity girls defeat Cedar Vale/Dexter, 51-22.
Updated SCBL brackets
Congratulations to Udall junior, Levi Hutchison, on the word we just received from SGT Hunter Dierks of KSARNG RRNCO!   "Levi Hutchison took the oath of enlistment to serve his country and local community in the Kansas Army National Guard! I wanted to make the school aware as he also scored exceptionally high on the ASVAB due to an amazing education provided by Udall High School! He will be going to Basic Training this summer before completing his Senior year then will go to job training as a Combat Engineer the summer following his graduation. He will also use the education benefits entitled to all Guard Soldiers and graduate college debt free!"  
The middle school girls defeated Caldwell, 25-22 tonight. They will now play Flinthills on Saturday at Oxford.
The high school girls basketball team will play CVD at Udall. The contest will start at 1 pm. Saturday, February 6. This is a varsity contest only and is the make-up game from the Don Braddy Tournament.
The high school basketball games scheduled for Friday, February 5, have been postponed. The reschedule date will be posted when it is determined.